HD 4x10" Tubular Bolsters
All Meyer wagons feature tubular bolster beams front and rear to carry the load, not formed channel like other brands!
Robust Frame
Meyer wagons put iron where you need it. This wagon has been designed and engineered for your toughest tasks. It's been torture tested and field proven!
C-Section Reach
This HD C-Section Reach provides flexibility and strength (5" wide). No rotating collars to wear out!
Precision Steering
Meyer X2004 wagons feature a heavy duty steering system with a massive vertical king pin, large block steering stop and a solid, single tie rod. It is greasable in all pivot points.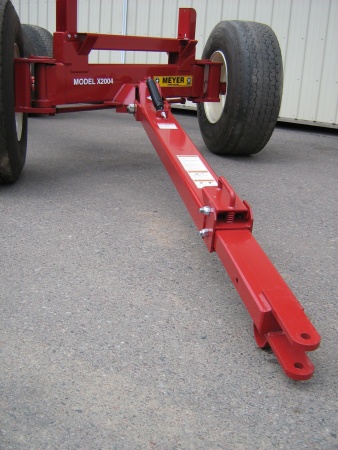 HD Adjustable Tongue
All Meyer wagons feature an adjustable tongue assembly to match your application. The speed hitch arrangement makes for quick hook-ups. Spring assit is a standard feature on all models.
T-Type Trunion Steering
This T-Type steering design provides added strength and accuracy. The vertical steering pin has replacable bushings along with a lower thrust bearing for ease of steering while eliminating stress on critical parts. All moving parts and tie rod ends are greasable.
No skimping here: The X2004 features 3 1/2" straight spindles sporting 15,000#, 10 bolt hubs!
1" steer arms, a solid-single tie rod and solid cast tie rod ends with 1" fine thread bolts to mate the system together.
Brake Package
A 4 wheel surge brake package is available for the X2004 model gear.