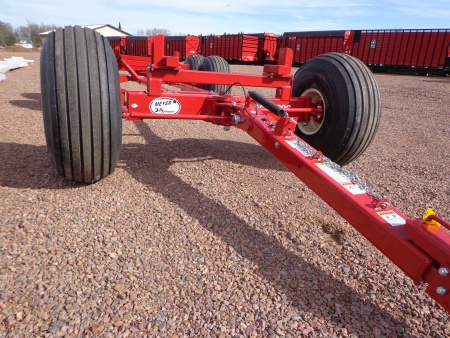 HD 4x8 Bolsters
All Meyer wagons feature a tubular bolster beam front & rear to carry the load. No formed channels like most other brands! (DRX2206 pictured)
Meyer wagons put iron where you need it. This wagon has been redesigned and engineered for your toughest tasks It's been torture tested and field proven! (DRX1906 pictured)
The heart of the new DRX design is the DUAL REACH system. These dual reaches provide flexibility, strength and durability. The problem with most single reach wagons is they loosen or fatigue over time cause poor long term performance on heavy applicatons.
This simple system provides easy installation of implements with 42" stringer spacing. It also allows for quick installation of a riser package if extra tire clearance is required for your application. (DRX1906 pictured)
The DRX2206 Tandem Gear features a cradle frame on the rear end of the gear to maximize contract with the implement frame. This reduces stress and damage when hauling heavy loads. Riser kit it standard equipment on the DRX2206 only - optional on DRX1906.
Meyer DRX wagons feature a completely new steering system providing ease of turning, tighter turning radius and trailability that you have to see to believe! (DRX2206 pictured)
This T-Type steering design provides added strength and accuracy. The vertical steering pin contains tapered bearings (shown in cut-away) for ease of steering while eliminating stress on critical components. All moving parts and tie rod pivots are greasable. (DRX1906 pictured)
DRX1906 wagons have 2 3/4" spindles whereas the DRX2206 features 3" spindles, both are T-Type design for maximum strength. 8 bolt, 8,000# hubs handle big loads and provide several tire/wheel options: 12.5Lx15, 14Lx16.1, 16.5Lx16.1, 19Lx16.1, 11Rx22.5 or 425/65x22.5.
All Meyer wagons feature an adjustable tongue assembly to match your application. The speed hitch arrangement makes quick work of hook-ups. Spring assist is standard equipment on the DRX!
Meyer wagon gears can be ordered with no tires/rims / rims only / tires & rims- your choice! (DRX1704 pictured here with optional riser kit)
DRX1906 & 2206 gears can be outfitted with a reliable 4 wheel surge brake system on rear wheels. (DRX2206 in photo)